Welcome to My Personal Page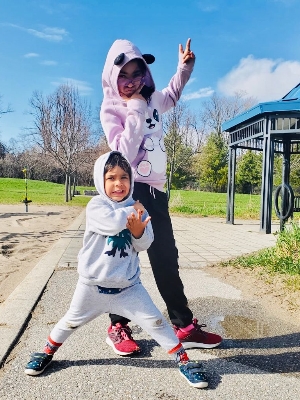 In loving memory of Anaya and Jax
Our loving angel Anaya was a confident athletic girl, who brightened up the world with her beautiful smile. She was an amazing big sister who took care of all those around her. Anaya was full of courage, indulging in new activities and conquering them. She was the best of both worlds, loving art as much as science and technology. She was unbelievably strong and could do more pull-ups than all of her older cousins....but NEVER at the expense of her hair and nails. She knew who she was and wasn't afraid to show it. Our beautiful bold Nanu will be deeply missed.

Our free-spirited Jax was a vibrant energetic young boy who filled everyone's hearts with so much love and joy. He was a fearless little boy who was always ready for his next adventure. Jax loved wrestling and wanted to grow up to be a Ninja Warrior. An animal lover who loved to roar like his favourite dinosaur. He would melt your heart with his sly smile and endless hugs and kisses. Our little Jaxie will live in our hearts forever.
In lieu of flowers please donate to SickKids Foundation

Your lives were a blessing
Your memories treasures.....
You are loved beyond words
And missed beyond measure
View More
Fundraising Honor Roll
Ralph & Maureen Phillips Family Foundation
$2,000
Rakesh, Shital & Niam Patel
Vasanti Cosmetics Inc.
$1,001
Kunal & Payal Patel
$1,001
Jatin and Neema Amin
$1,001
Sarita and Rohit Verma
$1,000
Frank and Mirella Colarossi and family
$1,000
Manekben Chaudhari
$1,000
Brain Power (brainpower.ca)
$1,000
Peter and Marian Saad
$1,000
Rahul & Nita Shastri
$501
Jason & Maria Korzenko
$500
J Ray on behalf of WCS Canada
$500
Nirav, Nidhi, Shayan, Sanaya, and Shan
$500
Priti Masi Anand Masa Mira Rei and Valo
$500
Haresh&Prafulla Mehta
$500
Paul Kim and Julie Yu
$500
BHARATI SURYAKANT SHAH
$500
Denise, Adam, Alessandro & Aidan
$500
Tracy and Tef Kalaparambath
$500
Dr. David Morrow and Family
$500
Amar, Jigisha, Aasha & Lilia
$500
Anca and Nick Staicu
$500
Anita & Suresh Patel
$500
Emad and Monica Iskandar
$500
Manu & Dina Mehdiratta
$500
Keyur & Natasha & Family
$500
Ishayu,Avi, Neilesh kaka, Prachi kaki
Nilesha & Milan Patel
$500
Anooj, Palavi, Ayaan & Kabir Dave
$311
Ms. Jillian, Ms. Sara & Ms. Nicole
Mountain Spring Falls
$300
Friends of "Mr. John" (Frankina, Laura, Mary, Sandra & Laurie)
$300
Julia & David Beltrano
$300
Domenic, Hilda & Family DeFazio
$300
Chetan & Ekta Sholanki
$251
SURESH & URMI THAKRAR
$251
Naresh Vinubhai & Neha Chaudhary
$251
Payal and Montu Patel
$251
Jeegar & Bhairavi Patel
$251
Payal Mukesh Arav & Anaya
$251