Welcome to My Personal Page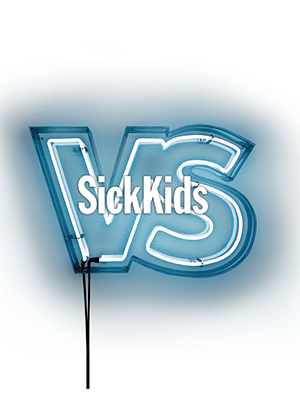 We are fundraising for SickKids so they can:
Continue breakthrough research, turning today's discoveries into tomorrow's cures
Build partnerships across the country and around the world, so all kids get the care they deserve
Continue to support the Oncology department at SickKids for their ongoing research efforts for Sarcoma research
By donating, you're helping SickKids do all this and more. So, help us reach our fundraising goal—thank you for making a difference!
With this new goal Addy's name will be put on Dr.Malkin's Research Laboratory door to say "Generously Supported by Team Addy"
A tremendous naming opportunity
Thank you
​
View More
Fundraising Honor Roll
Sherwood Homes Ltd
$5,000
Tim and Charlotte Blevins
$5,000
Major Wolfe Holding Inc
$3,000
Giant Tiger Stores Limited
$3,000
Newton Group Ltd. - Golf Tournament Proceeds
$2,200
Tessa & John Neuhoefel
$1,000
Doreen Andrea Master Plant-Prod Inc.
$1,000
Edge Electrical Solutions
$1,000
Westwood Greenhouses
$1,000
Angelo & Luisa Maggiolo
$1,000
Murray & Shannon Smith
$750
Pursuit Athletic Centre
$700
Centre Wellington Celtics Basketball Club
$650
Claire McElhinney & Love Elora Dubler Design
$600
The I can't believe it's not butter Fund (Dino Tonin's Estate) aka Deb Tonin & John Thomson
$525
Jim and Sandra Dempsey
$500
Karalee & AJ Broderick
$500
Linamar - Global Finance and Accounting
$500
Highway 24 Veterinary Clinic
$500
Jessica and Andy Abra
$500
Royal Canadian Legion BR 275 Nevada Fund
$500
Yellow Mouse Children's Campaign
$400
Allan Barish/Vital Link Ice Cream
$250
Michelle and Adrian Orso
$250
Dave and Barbara Pagnan
$250
Penny Simioni-Shipley
$250
Kirk and Chris Tofflemire
$250
K and K Greenhouses/ The Tigchelaars
Murray & Marjan Deller
$250
Heather Clark & Brian Rawbone
$250
Kathi and Joe Wilson
$250
Harvard Rd Dental Care
$250
John and Donna Rawbone
$250
Jen and Derek Strubs friend
$250
The Tukendorf Family
$250
Bill and Gloria Weir
$200
The Berger Family & Pat Drohan
$200
Johanne & Rob Martin
$150
Ron, Dorota and family
$150
The Laxton-Gilbert Family
Mark & Heather Breen
$100
The Huether Family ♥♥♥♥
Ponsonby U15 Girls Softball
$100
Carley & Alice Smith
$100
Ed Porcellato & Tina Berry
$100
Tim & Michele Costin
$100
Kate and Andrew Smith
$100
Sandra and Len Jonasson
$100
Katie & Steve Trento
$100
Kitchener Rangers Hockey Club
Lori, Kirk and Megan Speiran
$100
Bill & Franca DaMaren
$100
Claire Collinson & Dylan McMahon
$100
The Anderson Family - Madeline, Evelyn and parents
Douglas Hill (formerly Elora)
$100
Elyse Kewin-Rose & family
Angela Hill & Anne Johnson
$100
Margherita Lirusso-Valeriote
$100
Heather & Bob Phinney
$100
The McKerracher Family
$100
Giorgio & Gabriella Porcellato
Adriano,Lori and Kiana Stradiotto
$75
No Limits Goaltending
$75
Rick Soligo & Lisa Nosal
$70
Taylor Kivela Birthday Fundraiser
$50
Jennifer & Colin Haley
$50
Jessica Thomson and Family
Shirley J Newell-McCraney
$50
Stephen, Nikki & Samuel Gobbi
$50
George and Roberta Longo, Maria Orso
Elio & Bruna Santi4505500036275791
Brenda Eccles-Jardine
$25
Tony, Lorena, Stephanie & Nicholas Pellizzari
Taylor Kivela- birthday party fundraiser
$25
vito gabriella porcellato
Taylor Kivela- Birthday party fundraiser
$25
Maria and Mario Guardiero