Welcome to My Personal Page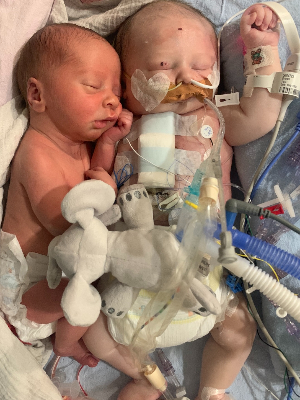 Lyndsey and Addison Brown learned halfway through their pregnancy that twin A was going to have a bit of a tough go once he entered our big scary world. Once born, Doctors were going to have to immediately work on repairing little mans heart and constructing a way in order to have blood pumping throughout his body. His first surgery was a minimally invasive way to insert a stent. After a little bit, they realized he was going to need more help, so doctors had to open the chest to operate. Following this, Austin underwent 3 more surgeries and proved he was a fighter until everyone knew he had reached his limits.
Born January 9th, 2023 into the loving arms of his parents Addison and Lyndsey, Austin entered into his heavenly home on January 19th, 2023. Austin's short life was spent in the hands of the wonderful doctors and nurses at Toronto Sick Kids.
This was " a day at work" for the people who took care of Austin and both Lyndsey and Addison. I'm sure many of us cannot even comprehend the amount of care and compassion one must have to be in this line of work.
Lyndsey and Addison are requesting donations be made to SickKids Toronto in lieu of flowers and what better way to do this, than in memory of Austin Addison Brown.
All donations will go to the most urgent needs of the hospital (research, equipment, etc) unless Lyndsey and Addison choose, at a later date once they've processed their loss, to donate to a specific area of the hospital.
Our goal is $25,000 as this will create a plaque in Austin's name to be hung in Austin's memory of his time spent there. However, every little bit helps to ensure every baby or family, that has to spend time inside the walls of this hospital, receive the care they deserve.
A life so brief, a child so small, you had the power to touch us all!
Obituary can be found at: https://www.highlandparkfuneralcentre.com/obituary/BabyAustin-Brown?fbclid=IwAR2VX4ckxAfm_pyziwaM-SMjxcqs9t_OcMSjedbaHL_h0CBIRFvg2UTfCGU
View More
Fundraising Honor Roll
Bob and Jean Thomson and family
$100
David Quist & Rose Farthing
$100
Matt, Lindsay, Myla, Jaelyn & Leah
Lisa and Mike McGuire 4510
Nathan, Amy, Lyra and Felix Johnston
$50
John & Louise and Andrea Johnston